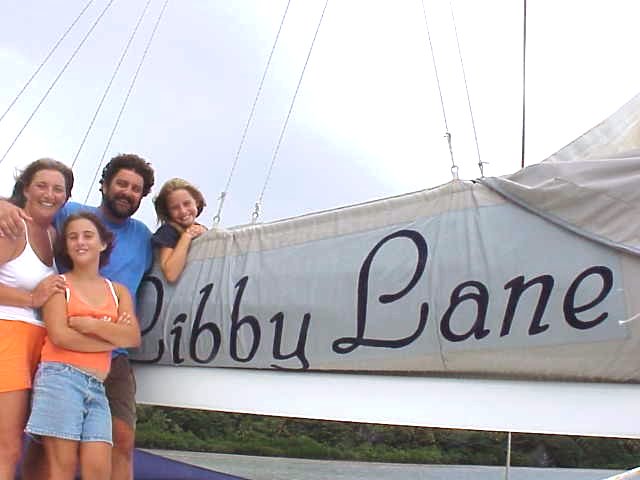 In January 2001, Drew and Monique Williams, along with their twin daughters, Grace and Celeste, flew to Florida for a one week charter on a 43 foot Catamaran. On the second morning the owner of the boat decided that we were qualified to handle the boat on our own, caught the bus home and left us at Marathon Key. The following six days changed our life forever! (The owner warned us this might happen...LOL) On the last day before returning the boat, we were moored for the night in Boca Chita Key, off of Miami, where we took a family vote. After one unanimous vote, Drew warned the family that if they voted this way again it WOULD Happen! Well....Guess what! That night we set an eighteen month goal to own and be living aboard our own catamaran. Little did we know that we would do it in Ten! (talk about a midlife crisis)
Drew, having spent most of his working life in the towing industry, and already had a fond relationship with the pond, so when Monique and the girls voted to go on this adventure, it was like bringing them home to meet Mom!..LOL
For the past 6 years Drew & Monique had been running a small excavation business in the little coastal town of Coos Bay, Oregon. We started this business when it was realized that in the 4 years that the twins had been alive, drew had only been home for 22 months of it, and wanted to be home with the family. Well, it didn't take long to learn a couple of things.. One.. The things people say about being in business not being a bed of roses is most certainly true.. and two...the economy of the construction industry on the southern Oregon coast served only to reassure us that being in business was not even a bed of Petunias! Even though there were several local contractors, some wonderful steady customers, and an opportunity to do a subdivision for two of the most wonderful people on the face of the planet, it wasn't working, and it soon became apparent that the Williams gang needed a change.
After returning home from the charter trip to Florida, we began learning all we could about catamarans. After a couple of months investigating the various makes and models, we decided that a Catana, if we could find one, would be the one. yachtworld.com soon produced a lead and the crew at Yachtfinders in San Diego helped it all become a reality. Ron Gullan, the broker at yachtfinders ( incidentally the representatives to Catana for the west coast of the states) flew to New Zealand with me and assisted in the survey and handled the transaction for us.
When we got home, Well "Garage sale" is an understatement! The garage sale sign said including garage. We decided that a clean break would be the best and so every thing must go. And it did. It all went better than we thought it would, When it was over we had, (or still do have) a 20ft. trailer in Drews moms drive way with the few personal things we think we might want when we get old, and our Toyota 4Runner which is under foot in Moniques parents garage in Seattle.
And as for Libby Lane, it was a very wonderful place. Many emotions still surface when we think of our little place there. I believe that where ever we go it will always be considered home to us. And so it is fitting that Libby Lane simply transformed into ocean front property, good any where in the world.
The S/V "Libby Lane" . a 1991 Catana 42-s catamaran is now our home, and the fact that we still live on Libby Lane suits all of us just fine. At this writing she in anchored in Viani Bay, on the east end of the island Vanua Levu, Fiji.
So now you know.....that's our story and were sticken' to it!
We are now Living on the "Libby Lane", a 43 ft. Catana Catamaran,
| | | | | |
| --- | --- | --- | --- | --- |
| The Escape | The Passage | Photos | Contact Us | Guest Book |